Philosophy

We market our products with good conscience, convinced that they have a maximum of quality and donít leave any kind of short-term or long-term damage on our environment.

We use neither lyes, acids, phosphate nor solvent. That guaranties us not only a protection of the environment, but also a protection of the surface to be cleaned.

Many biological cleaners which are on the market today contain large quantities of vinegar acid or lemon acid. You can be sure, that these acids are biological but in their concentration they attack the surfaces and are not completely biodegradable.

To ensure high quality products without harmful substances we studied intensively the current molecular research. This gave us the opportunity to find products, like ion exchangers or Kokotenside, that are not only completely biodegradable but have also a protective effect to each surface.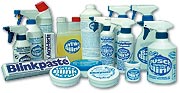 Unser Sortiment